Post Updates:
– 20. Dec 2022 – Renaming article from howto farewell.. to howto repair…
– 13 Sept. 2021 – Pointing to broken "Shutter Flex Cable" as possible cause
I bought a Ricoh GR II in Dec. 2017 and used it as my main travel camera while backpacking in 2018. After one year and approx. 45.000 photographs (~126 per day) the Closed Shutter Problem appeared. 9000 frames later the camera went dead. Since it happened a second time to my second Ricoh GR camera, I got curious and investigated if other people experienced it too.
Table of Contents (Drop Down Menu)
Closed Shutter after Power On?
The Closed Shutter Problem means that the shutter stays closed after Power On, forcing the photographer to make a dark frame exposure before it opens as it should. However, this is not a long-term fix!
Around 9000 photos later the Auto Focus started to malfunction, leading to more and more out of focus photos. I tried to use Manual Focus instead but the whole focus mechanism was not function right anymore. And then it changed very fast to the point that the lens would extend after Power On but either close immediately or stay out, while the camera turned off by itself. In short, my one-year-old GR II became unusable after ~54.000 exposures. It needs to be sent in for repair.
Other GR (II) user reports
I searched and found it to be a seldom discussed problem. Only 26 users in seven threads on three different websites report about this issue. The links to the threads are listed below and include Flickr.com, Dpreview.com, and Pentaxforums.com.
The Problem: Broken Shutter Flex Cable!
Broken GR dissassembly findings suggest that the issue is cause by a broken ribbon cable. The cable connects the camera control board and the extracting lens unit. Due to the repetitive stretching and contracting of the cable (when the camera is turned on and off), it wears out mechanically and breaks. One could argue that this is a case of planned obsolescence but I guess it is poor material quality and lack of quality control @Ricoh.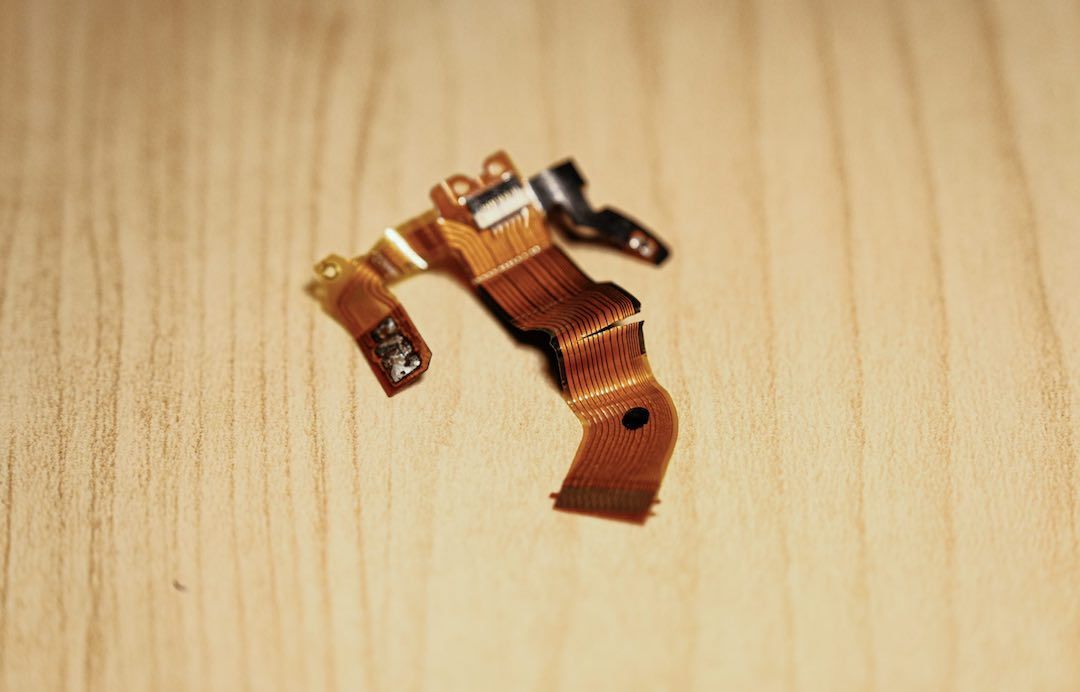 The Fix: Howto replace the broken Shutter Flex Cable
Order a replacement shutter flex cable with preinstalled components here or here (Ebay affiliate links) or here (Aliexpress).
Follow my step by step DYI Ricoh GR disassembly video just until 18:20 Min!
Follow my step by step DYI Ricoh GR Lens Housing dissassembly video.
Follow the step by step DYI shutter flex cable replacement instructions by Tommy Jing-Tao Lius.
Put the parts back together ^_^
Did it work? Let me know in in the comments below